What's Your Worldview?
5th ANNUAL STUDENT FORUM ON GLOBAL LEARNING
The Student Forum on Global Learning provides Dartmouth students with a channel for expression of and reflection on cross-cultural experiences, including but not limited to global and domestic internships, fellowships, research, service trips, and study abroad programs. Dartmouth undergraduate, graduate and professional students discuss and present on topics that delve into the complexities of our shared humanity. Our theme this year is "a time for positive and vigorous action." It is our utmost hope that community members, students, faculty and staff through this forum as well as Martin Luther King Day activities will feel inspired to pursue a greater knowledge and understanding of current global issues. As Martin Luther King, Jr. once said, "Change does not roll in on the wheels of inevitability, but comes through continuous struggle."
Please join us on January 20, 2014 in this celebration of global learning! We hope that these presentations encourage and inspire you to become an agent of change in your own environment, that you leave our forum motivated, challenged, and better prepared to actualize your cross-cultural learning objectives.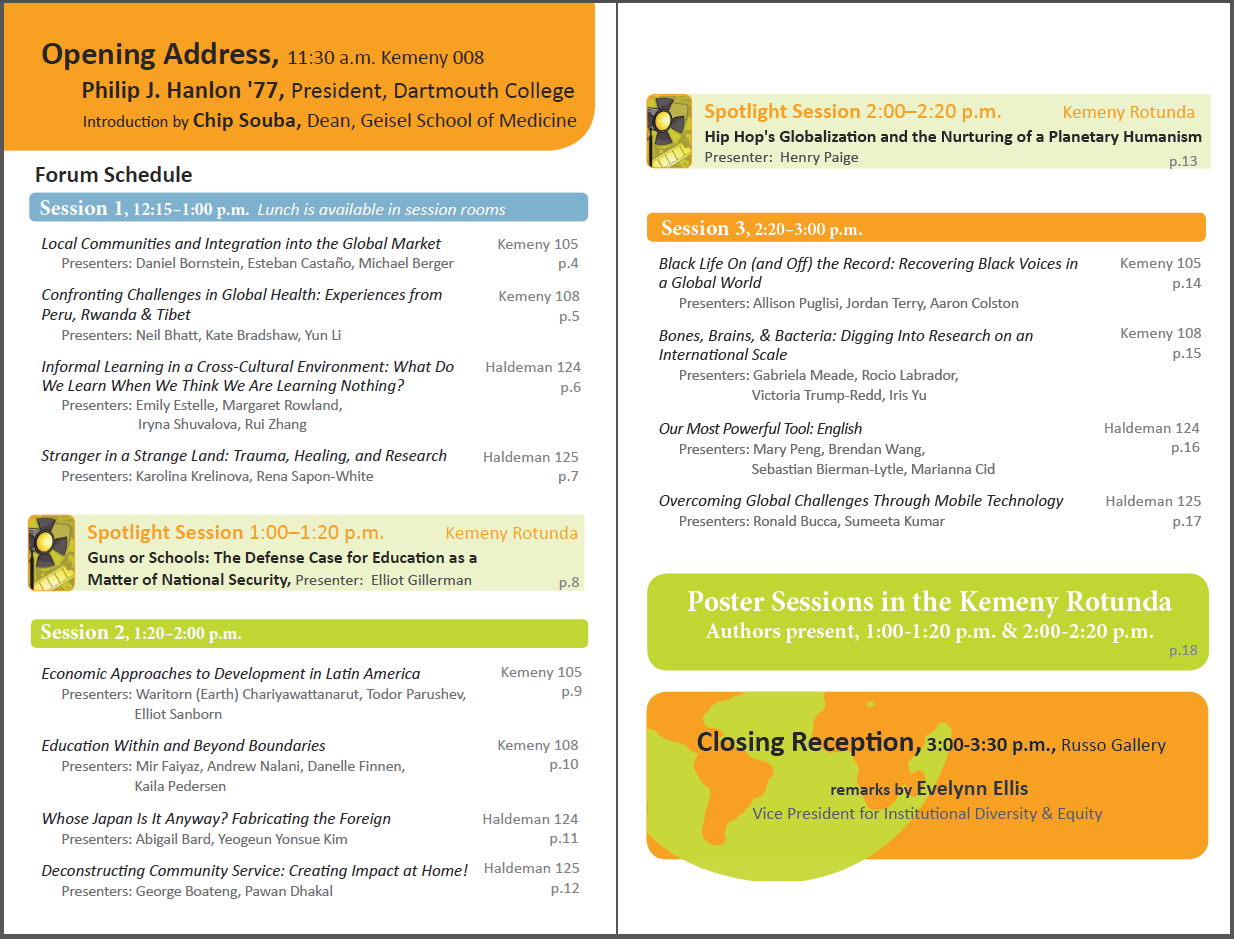 Opening Address - Kemeny 008 @ 11:30 a.m.
Remarks by President Philip J. Hanlon '77, Introduction by Chip Souba, Dean of the Geisel School of Medicine
SESSION 1 @ 12:15 - 1:00 p.m.
Lunch is available in session rooms
Local Communities and Integration into the Global Market  - Kemeny 105
       Presenters: Daniel Bornstein, Esteban Castaño & Michael Berger
Confronting Challenges in Global Health: Experiences from Peru, Rwanda & Tibet - Kemeny 108
       Presenters: Neil Bhatt, Kate Bradshaw & Yun Li 
Informal Learning in a Cross-Cultural Environment: What Do We Learn When We Think We Are Learning Nothing?
       Presenters: Emily Estelle, Margaret Rowland, Iryna Shuvalova & Rui Zhang
Stranger in a Strange Land: Trauma, Healing, and Research
       Presenters: Karolina Krelinova & Rena Sapon-White
SPOTLIGHT SESSION @ 1:00 - 1:20 p.m.
Guns or Schools: The Defense Case for Education as a Matter of National Security - Kemeny Rotunda
        Presenter: Elliot Gillerman
SESSION 2 @ 1:20 - 2:00 p.m.
Economic Approaches to Development in Latin America - Kemeny 105
       Presenters: Waritorn (Earth) Chariyawattanarut, Todor Parushev & Elliot Sanborn
Education Within and Beyond Boundaries - Kemeny 108
       Presenters: Mir Faiyaz, Andrew Nalani, Danelle Finnen & Kaila Pedersen
Whose Japan Is It Anyway? Fabricating the Foreign - Haldeman 124
       Presenters: Abigail Bard, Yeogeun Yonsue Kim
Deconstructing Community Service: Creating Impact at Home! - Haldeman 125
       Presenters: George Boateng, Pawan Dhakal
SPOTLIGHT SESSION @ 2:00 - 2:20 p.m.
Hip Hop's Globalization and the Nurturing of a Planetary Humanism - Kemeny Rotunda
       Presenter: Henry Paige
SESSION 3 @ 2:20 - 3:00 p.m.
Black Life On (and Off) the Record: Recovering Black Voices in a Global World
       Presenters: Allison Puglisi, Jordan Terry & Aaron Colston
Bones, Brains, & Bacteria: Digging Into Research on an International Scale
       Presenters: Gabriela Meade, Rocio Labrador, Victoria Trump-Redd & Iris Yu
Our Most Powerful Tool: English
       Presenters: Mary Peng, Brendan Wang, Sebastian Bierman-Lytle & Marianna Cid
Overcoming Global Challenges Through Mobile Technology
        Presenters: Ronald Bucca & Sumeeta Kumar
CLOSING RECEPTION - Russo Gallery @ 3:00 p.m.
Remarks by Evelynn Ellis, Vice President for Institutional Diversity & Equity