Contact
Dartmouth's Office of International Initiatives (OII) is the primary point of contact for questions regarding institutional policies, international partnerships, and guidelines for establishing global collaborations. If you have a question regarding international activities at Dartmouth, OII staff can direct you to the appropriate resource. 
Associate Provost for International Initiatives
Lindsay Whaley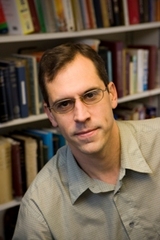 lindsay.j.whaley@dartmouth.edu | 001 + 603-646-2404
Lindsay Whaley is Associate Provost for International Initiatives and Interm Vice Provost for Dartmouth. In these roles, he leads Dartmouth's strategy for global engagement, including international research, institutional partnerships, and collaborative networks. As vice provost, he oversees Dartmouth's academic centers and institutes, including the Hopkins Center for the Performing Arts; the Hood Museum of Art; the Dickey Center for International Understanding; the Nelson A. Rockefeller Center; the Ethics Institute; the William Jewett Tucker foundation for Service, Spirituality and Society; and the Rassias Center for World Languages.
A member of the Dartmouth faculty since 1999, Whaley has chaired the Department of Linguistics and Cognitive Sciences and served as the inaugural Associate Dean for International and Interdisciplinary Studies from 2006 to 2011. Previously, he held faculty positions at SUNY/Buffalo, the University of North Dakota, and Trinity College and Seminary. Whaley is a graduate of Calvin College, with MA and PhD degrees in Linguistics from the University of Buffalo. Known internationally for his research on endangered languages and linguistic typology, he is the author or co-author of four books on linguistics.
Assistant Provost for International Initiatives
Laurel Stavis
laurel.r.stavis@dartmouth.edu | 001 + 603-646-8187
Laurel Stavis is Assistant Provost for International Initiatives at Dartmouth, where she works to develop and implement Dartmouth's global engagement strategies. She directs the Dartmouth-American University in Kosovo Program and is a member of the steering committee for Dartmouth's collaborative agreement with the Kosovo Ministry of Health. From 2008 to 2012, she was executive director of the Dartmouth-American University of Kuwait Program. In that role, she counseled the president and Board of Trustees of Kuwait's first private liberal arts university; developed collaborative programs between the two institutions; and worked with senior administrators, faculty, and Kuwait government officials on higher education policy and procedures.
She came to Dartmouth in 1996 as director of the Office of Public Affairs, a role in which she led the institution's central communications and public relations functions. Previously, Stavis directed Public Affairs and Government Relations at Wellesley College in Massachusetts from 1986 to 1995. She is a graduate of the New England Conservatory of Music and pursued graduate studies in executive management at Babson College in Wellesley, Massachusetts.